I wanted to start a blog to start tracking my savings. I want to know about what budget I can realistically set for myself, both for food/hba products and for clothing ect. While I am going to list some deals that I got before this month, my tracking is going to start as of September 1st, 2008.
So far this month, I have made 3 shopping trips. One each at CVS, Kroger, and Target.
Last week, Target had a special, purchase 4 Kellogs products, receive a $5 gift card. My transaction was as follows.
12 boxes of Poptarts
-6 $1/2 coupons (q)
-12 .50 off target qs
Total $15 receive $15 gift card.
I did this transaction twice totaling 24 boxes, the second time using the $15 in gift cards. I could have done less out of pocket to start, but I want to use a $10 mail in rebate. Therefore, in the end, I spent $5 out of pocket and received $15 in gift cards, making this a $10 profit.
Why so many poptarts? First of all, if you are being paid to take stuff out of the store, why wouldn't you take it? Secondly, my husband and daughter love poptarts J There is no way we will eat all of these before they expire, so we have shared some with neighbors and plan to use some as trades for other products and coupons.
CVS this week was very eventful! CVS has an extra care bucks program (ECB). Certain items every week and month have ECBs offered on them. I have two cards, one each for Dave and I. Here was my transaction this week.
Nena's Card
Start with 9.99 in ECBs
Transaction 1
2 Chex Mix @ $1 ea
Loreal Product $5.99
2 Right Guard Deoderant @ 2.99 ea
Bubble Toy .75 (75% clearance filler)
subtotal: 14.72
2 $1 off chex coupon
2 $1 off Rightguard
$1 off Loreal
5.99 ECB
4.00 ECB
Total OOP: $0
ECB earned: $4 (rightguard) $5.99 (Loreal) $9.99
Trans 2
3 Revlon Nail Polish @ $3.99 ea
3 Right Guard Deodorant @ 2.99
1.75 Tennis game (75% clearance filler)
subtotal: 22.69
3 $2 off Revlon coupon
$2 Revlon CRT (store printed coupon)
3 $1 Righguard coupon
$2/10 CVS coupon (sometimes emailed)
$9.99 in ECBs from previous order
Total OOP" $0
ECBs earned $9 (Revlon) $6 (Rightguard)
End with $15 in ECBs no OOP (out of pocket)
Dave's Card
Start with 12.99 in ECBs
Trans 1
1 Rightguard Deodorant
1 soft and dri Deodorant (same as rightguard deal)
3 Revlon Nail Polish
1 Loreal Product
- $1 Loreal
- $1 Rightguard
- $.75 soft and dri
- $6 Revlon (3 @ $2)
- $2/10 CVS coupon
- 12.99 ECBs
Total $.20 Paid with CVS gift card (I received a gift card after calling CVS customer service after being wrongly treated, the problem was corrected and I got a gift card J )
ECBs Earned- 5.99 Loreal $2 Rightguard $9 Revlon
Trans 2
3 Soft and Dri Deodorant
- 3 .75 coupons
- $5.99 ECB
Total: $.73 on the gift card
ECBs Earned $9 Soft and Dri
End with $18 in ECBs no OOP (out of pocket)
They were out of the Excederine that was on sale for $1.99 (I have $2 off coupons) so I got a raincheck.
Total Spent at CVS $0, Amount saved (based on prices of items while on sale): $84.09


Kroger

This trip wasn't as good as most. Dave picked out two recipies in which the ingredients ended up being very expensive having to buy oils and seasonings that we didn't have. However, the trip turned out pretty good.

Total before coupons: 85.07 (this is after all of the Kroger sales)
Amount of coupons $36.95
Total paid $48.12

I got a great deal with coupons for the All You magazine, this is the first time I have got these and I need to get more!!

Several buy 3 Kraft products receive ____ Kraft product free. Koolaid is Kraft. So here are the items I got for free buy using these coupons and purchasing $6 in koolaid J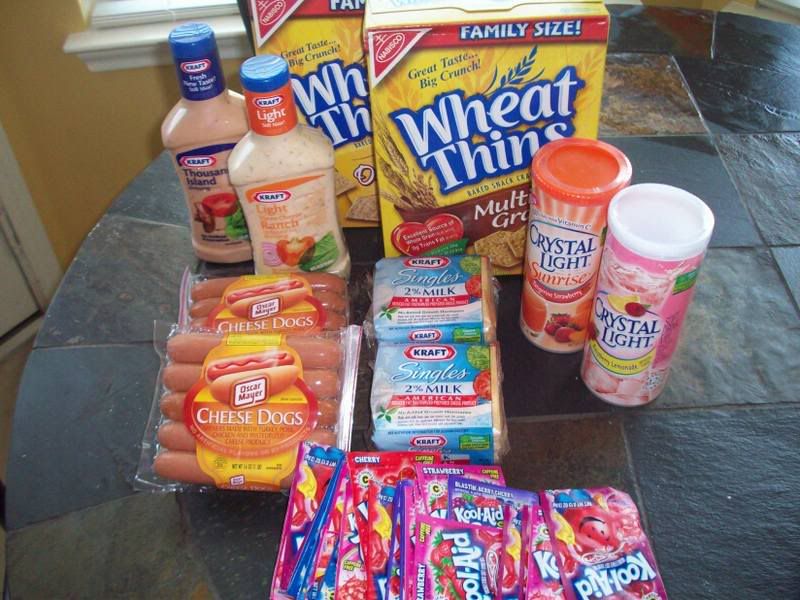 Some other recent frees (all within the last 2 weeks or so):

$10 Covergirl Outlast Lipstick BOGO at CVS use BOGO q is FREE (got 30 of these)
$2 Just Bunches honey bunches of oats using $2 q is FREE
$1 Malt O Meal with $1 off MOM is FREE
$1 Frenches Mustard $.50 q doubled FREE
$1 Lawrys Marinade $.50 w doubled FREE
$1 Kotex Pantyliners using $1 off Kotex FREE
$3.72 Glade Plug using $4 off .28 CENT MONEY MAKER


Just matching sales and coupons… oh and not to mention ALL of the help I get from http://www.hotcouponworld.com/ :)
Here are some pics of my "stockpile" I have been doing this for about 2 1/2 months with the first few weeks of trying to learn the ropes. Everything pictured was either rediciously cheap or free, or better yet... I made money by buying it :)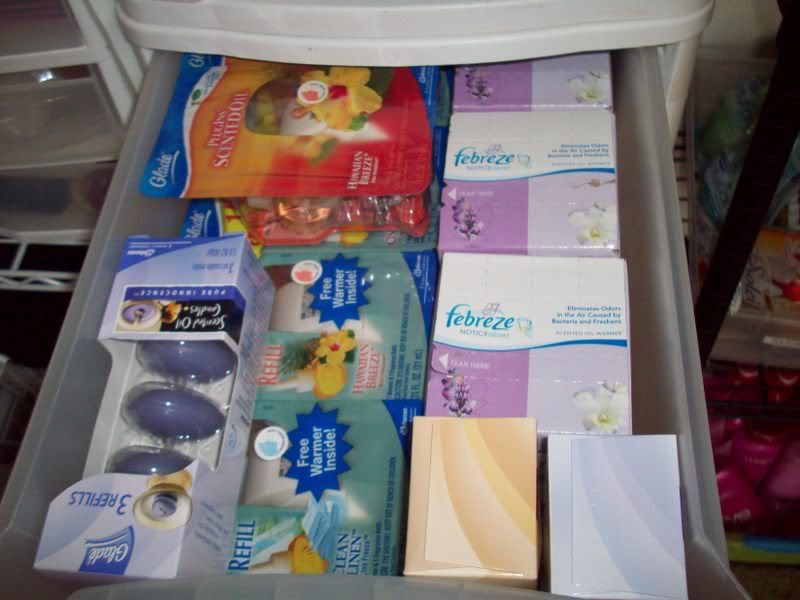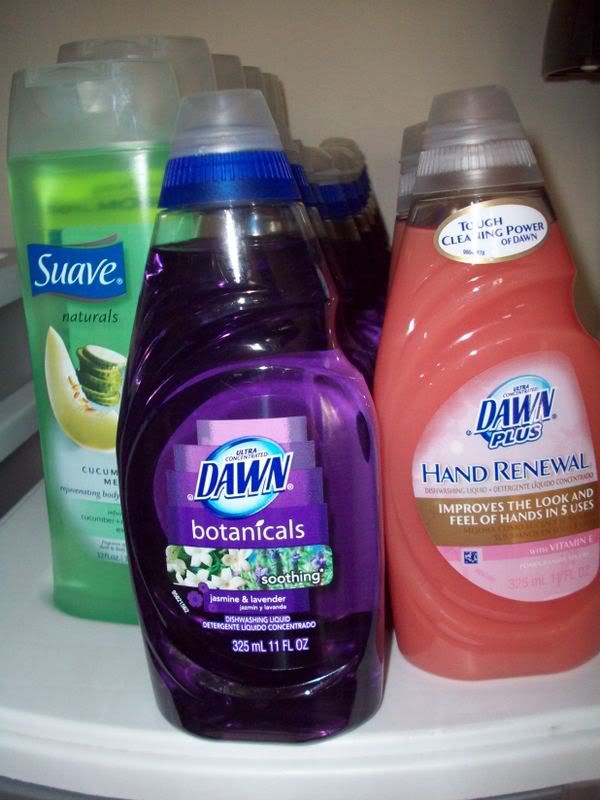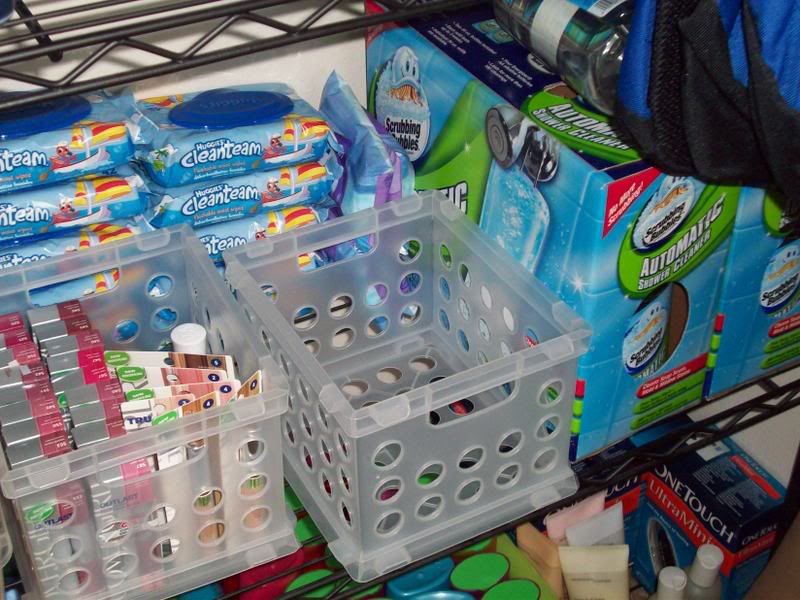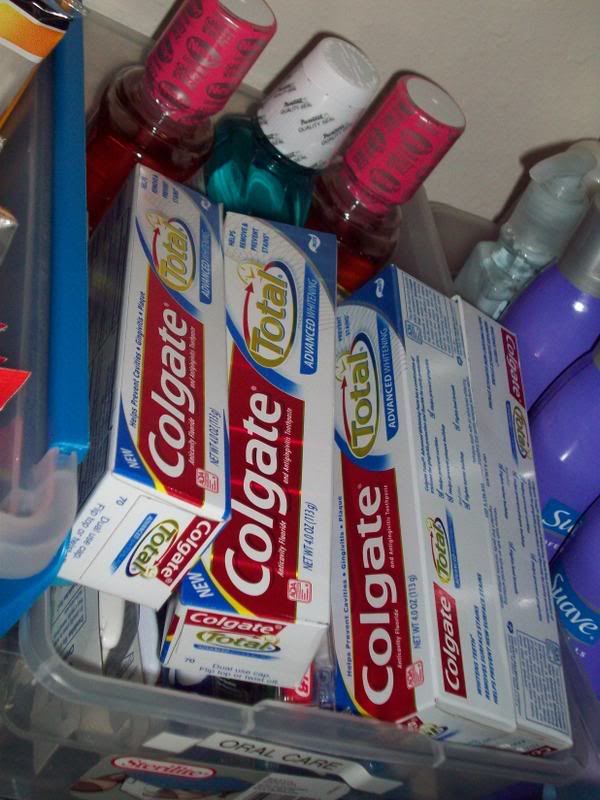 Total Spent: $48.12
Total Saved: $190.04