This has been a really busy weekend for me, so I am kind of lumping everything from the last few days into one.
Kroger
I love RX coupons :) I used a coupon from CVS (Kroger takes competitors coupons) and recieved a pharmacy credit of $25 on my Kroger card. My first transaction acutally was negative .85 because I forgot about overage from the Quaker coupon, so i quickly grabbed some candy, I HATE this... its such a habit I have to reach and grab the first thing I see that would eat up overage... I had more grocerys from the second transaction I should have grabbed, but in the middle of it, I freak and just grab. My second trans for $14.xx but that was out of my RX money, so nothing OOP :)
Next,
Walgreens
I did another reach deal, but it is already in the garage sale pile :) I also got 5 BIC
Soliel
razors (only 4 pictured, one got lost in my car for the picture) they were on clearance forWags $3.59, we have $2.00 off coupons from the 3/15 SS (smart source) coupon inserts, AND Wags has the easy saver coupon for $2.00 of each pack, making this a $0.41 MM EACH. I also got a princess plate for DD to eat up overage :)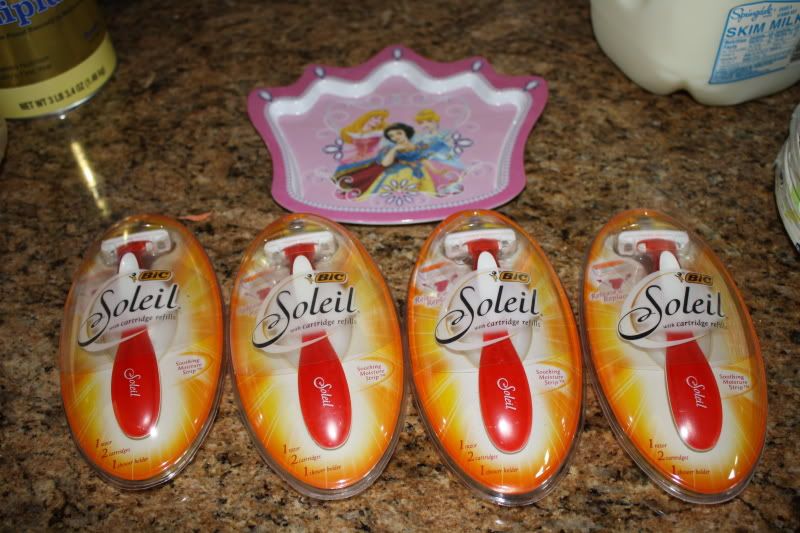 Today I did the Hunt's Tomato Sauce deal, where I got 11 cans and will be a .42 m
oney
maker :) WOO
HOO
!!
Target was awesome
thanks
to Amanda, they had these
Gilette
bodywashes
on a side cap (
LOL
) for $2 and we had $2 coupons, so I got 10 of these (DH already stole one for the shower). And I am still using up my
huggies
coupons on wipes. The larger bag is $5.99 with a $5 coupon making it .99 and the other two tubs give .61 cents overage, woo
hoo
! I also forgot to picture applesauce, it is $1.62 and I used $1 target coupon and a .55 printable making it .07 :)