Alright..more free stuff for me :) Seriously, if you haven't started playing the CVS and Walgreens game, what is stopping you???
Here were my trips from yesterday
CVS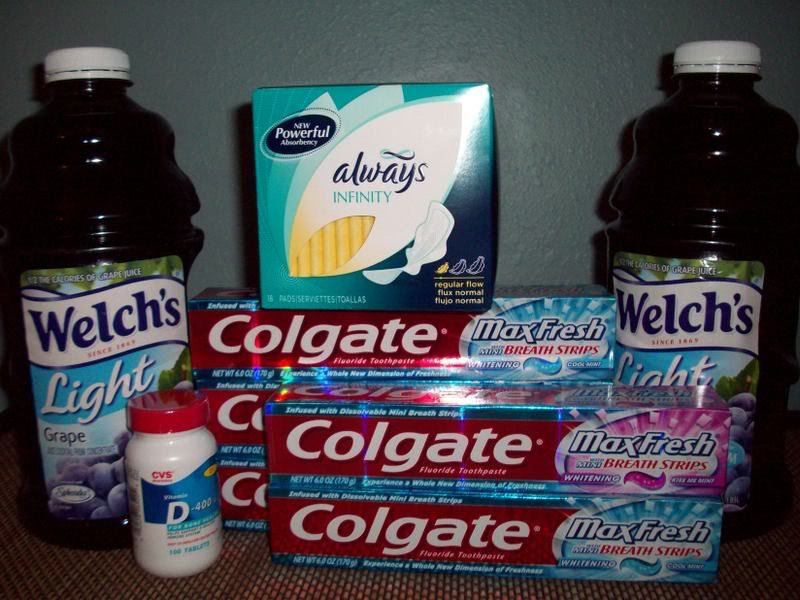 Made two trips looking for more Soleil razors, they should have some more in today, since i have 2 more coupons.
Transaction 1
Always Pads 4.98
2 Welches Grape Juice 2.34 normally 4.69 ea
CVS Vitamin D 2.99
-2 $1 Welches
- $4.98 ecb
- $5.69 ecb
Total OOP Zero.. got back 10.97 in ecbs
.. sometimes its more beneficial to loose a few cents on ecbs than to get something else and pay out of pocket. I think my last ecb here was 5.98 not 5.69.
Transaction 2
2 Colgate Max Toothpaste 2.99 ea
-2 $1 Coupon
Paid with $4 ECB
Total OOP ZERO got back $4 ecb
Transaction 3
3 Colgate Max 2.99 ea
-3 $1 coupon
Paid wtih $6 ecb
Total OOP ZERO got back $6 ECB
Walgreens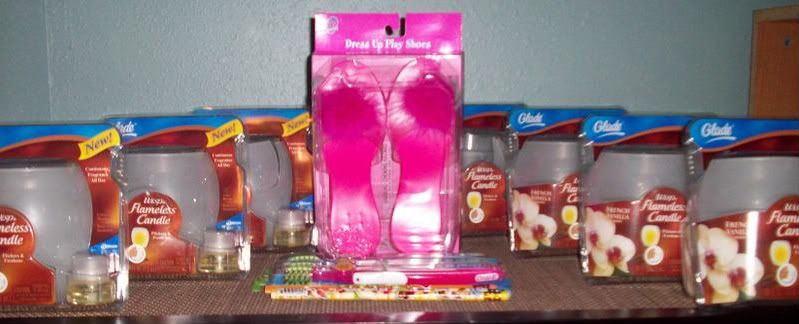 I had planned on doing less transactions to use the BOGO coupons I had to make it simpler, but the cashier insisted that I not waste my $5 ones :) Yay, more money for me! But as you can see :( two in the back are broken. I think it may have happened on the way home :( I'm sad.
Trans 1-6
1 Glade Wisp 5.99
-$5 coupon
Total 1.07 (tax) get $3 RR
Transaction 7
Dress Up Shoes for Christmas 3.99
Glade Wisp 5.99
-$5 q
- $4.50 RR from Oral B
Total OOP .51 got $3 RR
Transactions 8-10
Oral B Toothbrush 4.49
Pencil .20
-$3 RR
-$.75 Oral B
Total OOP 1.02 get $4.50 back
Total Spent since Sept 1st: $393.85
Total Saved since Sept 1st: $2661.90
87.11% Savings in total